Plumeria Care
Plumerias are tropical plants and thrive in warm & sunny weather. Plumerias can be grown in most areas of the United States and will thrive in the warm Southern California climate. It can be cultivated in containers or in the ground. Warmer weather are the months of active growth, ample sun light, fertilizer, and watering are essential during this period for its success. Healthy plumeria will grow vigorously and bloom regularly and profusely when they receive a minimum 6 hours of daily sun light and fed with the proper fertilizer. Plumeria loves water, but can't tolerate a "wet feet", so they must be planted in highly organic fast draining potting soil mixed with perlite, with a slightly acidic ph level ranging from 6.0 to 6.7. Caring for the plumeria depends on the season of the year. If you live in a cold part of the country, bring your plants out of storage in the spring, watch them grow and bloom in the summer, prepare for dormancy in the fall and store it back in the winter. If you live in a warm region where temperatures don't drop below 40 degrees during the winter, keeping the plants outside all year around is totally safe.


---
Spring & Summer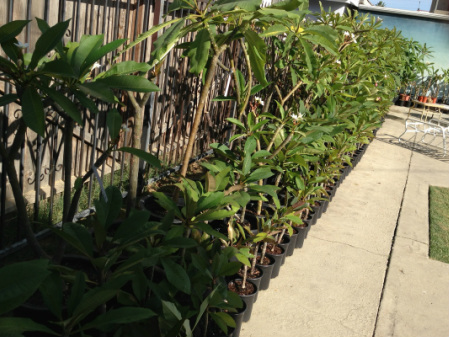 Summer - active period
Spring & Summer are the active periods in the Plumeria's life cycle, it's the time to feed the plant with plenty of water, lots of sun light and the right fertilizer (low nitrogen and high phosphorous) is recommended, look in the fertilizer's label for a high middle number like 10 - 60 - 10, feeding the plant every other week until Fall arrives. During overwhelming heat periods in the Summer daily watering maybe necessary, check the soil periodically making sure it's not bone dry, look for signs of distress in the plant, like limp leaves and desiccated branches. The proper care during this period will increase the blooming chances of the plant. In the beginning of Summer is also a time to consider repotting if the plant is out-growing its container.
---
---
Fall & Winter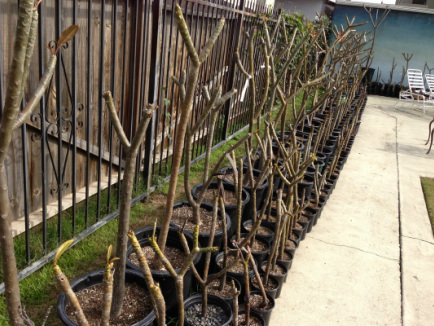 Winter - dormant period
Fall & Winter are periods of dormancy and very little care is necessary, when temperatures in the day drop below 60 degrees the plumeria will stop growing and prepares for 'hibernation', this is the time to stop feeding the plant with fertilizer and reduce watering. During winter no water is needed, the plumeria goes fully dormant dropping most of its leaves. If the temperatures regularly drop below 40 degrees, storing the plumerias indoors like a garage is highly recommended, if the cold is intense for long periods of time a heather device is a good idea. Before storing the plants for the Winter remove all it's remaining leaves to prevent fungus and pest growth (spider mites / white flies) and a big mess from falling leaves.
---